History and founders
Optical Warehouse: A history of passion!
Since the creation in 2013, and the opening of the first location in 2014 in Trois-Rivières, Quebec , the founders' key desire was to bring a wide choice of quality optical products to the Canadian market at fair prices.

With its fair-pricing approach on the latest eyewear styles and technologically advanced lenses, the Optical Warehouse has made a difference on the Canadian optical landscape by saving hundreds of thousands of dollars for its countless happy customers.

In 2019, Entrepôt de la Lunette co-founder, Daniel Beaulieu, announces the centralization of management activities for all companies under the Optical Vision Group banner. Optical Warehouse is now managed by the Optical Vision Group whose role is to oversee its multiple optical banners and locations across Canada.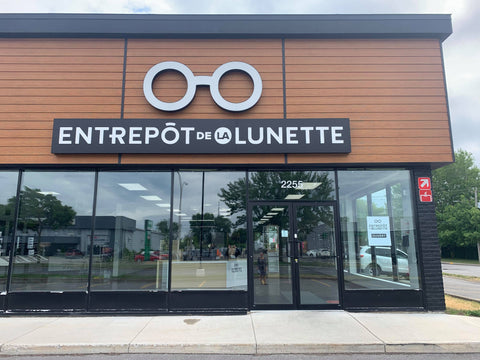 Businessman Daniel Beaulieu comes from a family of entrepreneurs and has been active in the optical
industry for over 35 years. With a background in commercial law and financial planning, Daniel Beaulieu has developed a unique expertise in ophthalmic lenses in managing over 10 Laboratory over the years.
 First his father's partner, then owner of various optical laboratories, he founded several associations and companies, and today heads a world-class network. His expertise in various companies makes him a true pillar of the optics industry in Canada. The development of these companies has also brought him into contact with vision care professionals or manufactures of Lenses from all over the world (more than 50 countries).
He is President and CEO of Optical Vision Group.
From the same entrepreneurial family, Stéphane graduated from the National Alliance of Canadian Optician Regulatory Authorities. He is V-P for Business Development in New Brunswick, Assistant to the President at Entrepôt de la Lunette N.B Inc. and a member of the Ordre des opticiens d'ordonnances du Québec.
Co-founder of Lunetterie de Sherbrooke and Granby, he is now partner and assistant to the president in
Quebec.
After working for an optometry chain, Jean-Nicolas decided to quit his job and start his own business with partners: l'Opticien du marché. His desire was simple: to meet people's needs with quality products and services at an honest price.
By going to flea markets, seniors' residences and tourist events to offer customers better prices, Jean-Nicolas was able to reduce his fixed costs. After several months on the road, he felt it was time to offer customers a stable place to come and choose from all the eyewear frames he had access to in his buying group. With less expensive rent than in shopping malls, and more sober, less extravagant displays, he could lower his selling price and offer consumers what they were looking for: quality at a good price. This is how he joined the "Entrepôt de la Lunette" concept with the Direct-Lab network, under the direction or management of Daniel Beaulieu.